Innovision Cockpit
The universal control centre with no switches
Optional: Active roll stabilisation as part of air suspension
For responsive steering and stable cornering
IQ.LIGHT – matrix LED headlights, standard on Touareg Design
For a dynamic look, with no dazzling
IQ.LIGHT – matrix LED headlights
Dynamic look with no dazzling
Whether you are driving in the city, on country roads in the evening or on the motorway in bad weather: the IQ.LIGHT – matrix LED headlights, standard on Touareg Design, adapt the intensity and range of the LED segments to the changing traffic situations. 'Dynamic Light Assist' ensures that other road users are not dazzled, even with the active main beam. Roads are better illuminated and distracting reflections from lit-up signs are prevented. Meaning that your Touareg can really shine in the best sense of the word.
 
Exterior design
Perfect form
With its visual highlights, the Touareg is a wonderfully expressive sight, even for an SUV:
Chrome fins across the entire front
LED headlights with LED daytime running lights
Gloss black roof spoiler
Tail light clusters with LED technology and dynamic turn signals1
1 In conjunction with optional IQ.LIGHT – matrix LED headlights
'Black Style' design package
This look is the new black
With the optional 'Black Style' design package
1
, you can take the R-Line look even further:
Bumper in 'R' styling in car colour


Lower door sections in car colour


Air intakes with fins in black


Mirror covers with black paintwork


Black gloss trim strips on side windows

1 Only for the optional R-Line package2 or the 'Atmosphere3' and 'Elegance3' design packages
2 Only in combination with the 'Savona' leather package for R-Line or 'Vienna' for R-Line, Volkswagen R alloy wheels and headliner in Soul Black
3 Only in combination with 'Savona' or 'Vienna' leather package and optional alloy wheels
Wheels
Looking good: the wheel range
Which wheels will suit your Touareg best? It's a matter of opinion. And it's all up to you. That's why we offer you an attractive range of alloy wheels that you can use to turn our Touareg into your Touareg.
Innovision Cockpit
The control centre with no switches
The digital instrument  bundle and the screen of the infotainment system form one curved glass surface: the optional Innovision Cockpit.
Operated by touch, gestures or voice control


Displays functions in graphics and animations


Home screen content can be customised


Selected displays can be enlarged


Offers control of navigation system and infotainment via smartphone or tablet
Digital Cockpit
See only the information that you want to see
Classic speedometer or high-resolution navigation map? Or why not both? The optional Digital Cockpit makes this a reality:
High-resolution 31 cm (12.3 inch) TFT colour display


Various views can be configured


Access detailed driving data via the multifunction steering wheel or infotainment system


Optical 3D display of the driver assist systems


Targeted zoom for the navigation map


Full-screen overlays of selected information


Navigation map and media displays can be combined
Air suspension
Go off-road but stay on the level
In the Touareg, you decide for yourself what you want your driving experience to be like. Depending on the driving mode, the optional air suspension lifts the vehicle to a ground clearance of 258 mm. The rear of the vehicle can also be lowered by 50 mm for convenient loading or unloading.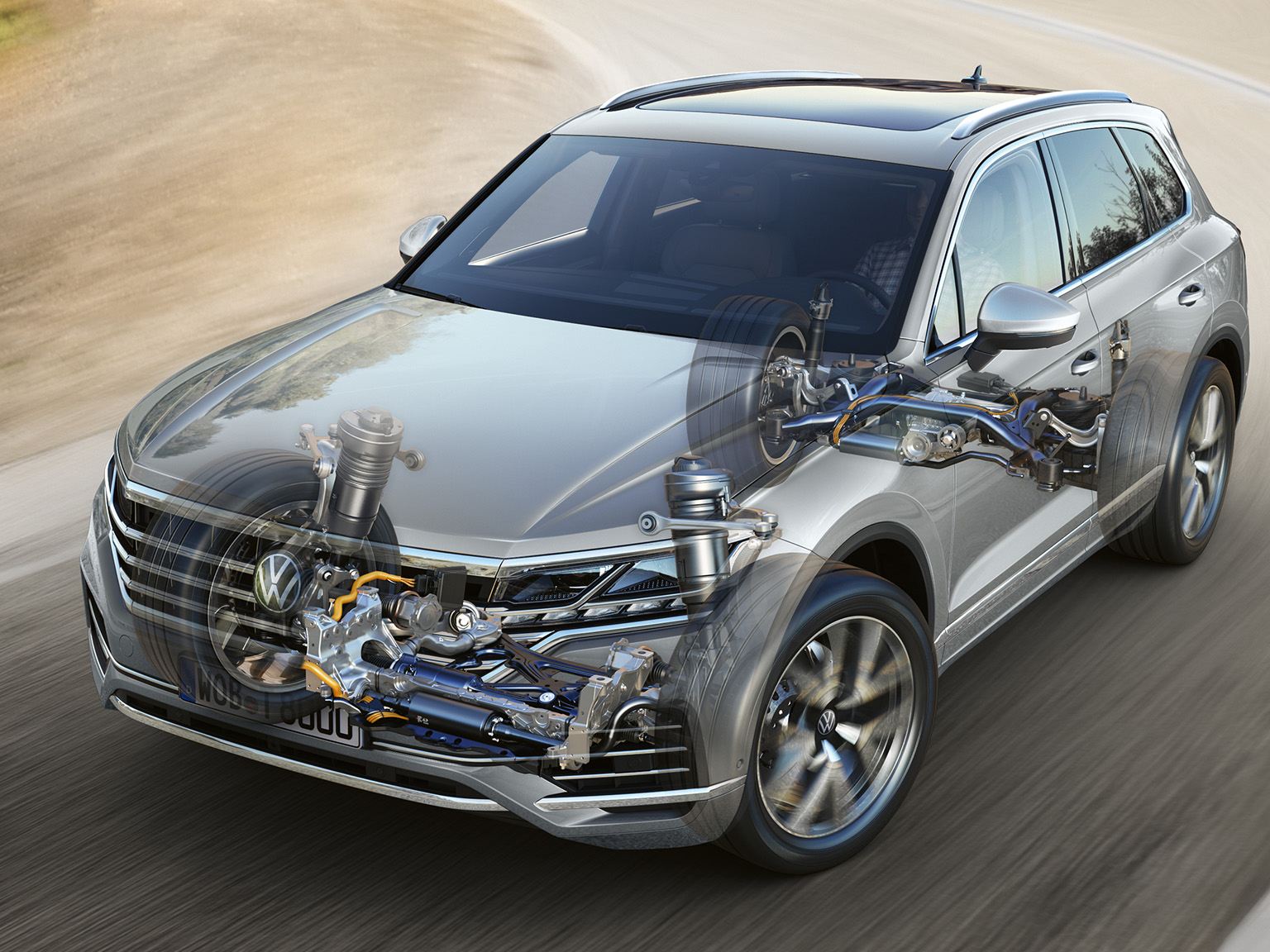 Active roll stabilisation
Responsive steering, stable cornering
Active stabilisers1 on the front and rear axle reduce the lateral tilt when cornering. They are electromechanical rather than hydraulic. The Touareg thus responds sensitively to steering, even at low speeds. The optional system prevents understeer during more dynamic cornering: the front wheels push the vehicle less forcefully into the outer edge of the bend.
1 Only in conjunction with optional adaptive chassis