Dynamic styling
A distinctive, alluring presence
Advanced Matrix LED Headlamps
A dynamic look. Without the dazzle.

Adaptive Cruise Control
Keeps a distance. And to speed limits.
Exterior
The Passat looks top class
The Passat's design combines functionality with a sporty shape. Its striking radiator grille and signature headlights give it an unmistakable bold face.
The LED headlights or optional Advanced Matrix LED headlights, the new LED tail light cluster design, combined with a selection of dazzling wheels, collectively round off its impressive look.
In short: the Passat is set to impress from every angle. At first sight, right through to your final destination.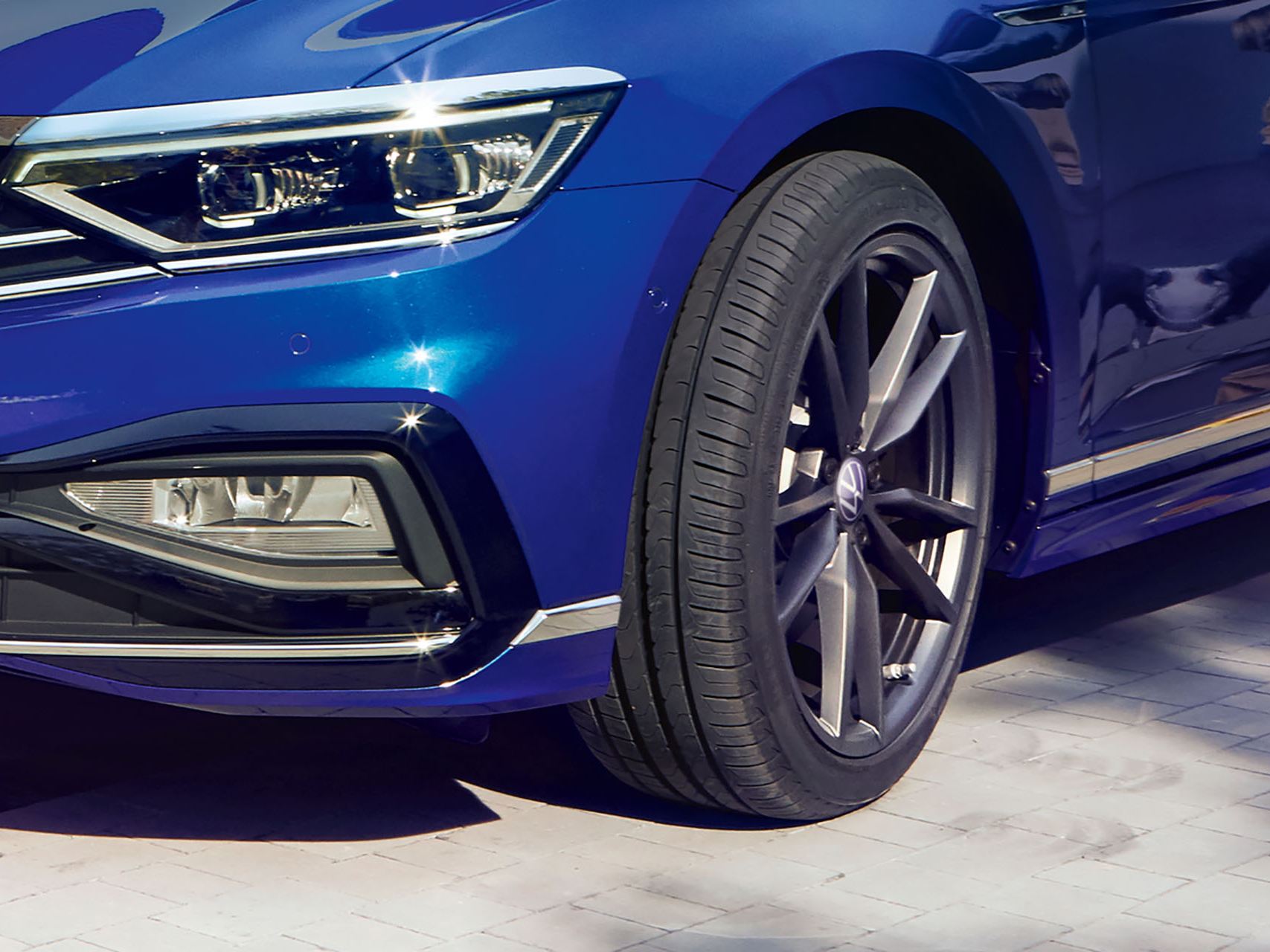 Wheels
Looking good: the wheel range
The combination of tyres and wheel rims that suits your Passat the best is simply a matter of taste. But we're sure you'll make the right choice.
Interior
Meets even the highest standards: yours
The Passat's interior highlights its premium quality at first glance. The entire design creates a spacious, luxurious feel.
High-quality decorative trim on the dash panel and doors enhance the vehicle's look down to the very last detail.
Comfortable seats with adjustable head restraints and generous legroom create a spacious feel, too. Welcome on board.
Ambient lighting
From cool to cosy. Light creates a mood. You choose which one
See every journey in a new light: with optional ambient lighting, you create your own lighting mood in the interior. So you've got the right atmosphere for every mood – in three versions with up to 10 or up to 30 colours. From dimmed to brightly lit. It's easy to control the illuminated decorative trims using your radio or navigation system display. Ambient lighting PLUS also offers you an additional lighting strip in the front dash panel.
Advanced Matrix LED headlights
A dynamic look. Without the dazzle.
Advnaced Matrix LED headlamps shine without dazzling others thanks to Dynamic Light Assist. 1 Depending on the driving situation, individual LED segments are switched on or off specifically for lighting distribution.
Whether you're driving in town during the day, on country roads at night, or the motorway in bad weather: your IQ.LIGHT – Matrix LED headlights will adapt. This ensures a relaxed drive not just for you, but the people driving towards or ahead of you, too.
1 within the system's limitations
Dynamic cornering light
When you take a corner, your light goes first
The predictive dynamic cornering lights offer improved visibility on winding roads. The system begins to light corners before you start to turn the wheel.1 Literally a bright idea.
1 Within the system's limitations
Adaptive Cruise Control (ACC)
Keeps a distance. And to speed limits.
ACC adaptive cruise control prevents you from exceeding a pre-set top speed2 and enables you to maintain a minimum distance to the vehicle in front. In conjunction with an optional navigation system, ACC also offers predictive speed control and curve assistance. The system helps you to avoid overspeeding by integrating official speed limits1. Based on route data from the navigation system, the system also adjusts the speed of the car to curves, intersections and roundabouts1.
1 Within the limits of the system
2 Up to a maximum speed of 210 km/h
Front Assist

A moment of shock? Not in your Passat.
Where there is a risk of collision, the 'Front Assist' area monitoring system with Pedestrian Monitoring can help reduce the severity of the accident or – in an ideal scenario – prevent the accident from taking place.1 It can detect pedestrians and vehicles on the lane and warn the driver in good time of any pedestrians and vehicles it detects. If there is no reaction, the system can initiate emergency braking.1
1 within the system's limitations