GTE mode
Driving pleasure at the touch of a button
Mobile key
Your smartphone plays the key role
Adaptive Cruise Control (ACC)
Keep a safe distance and stay within speed limits
GTE Mode
Driving pleasure at the touch of a button
Whether purely electric or as a combination of an electric motor and a combustion engine, with the Passat GTE you can simply select the type of drive by pushing a button. In GTE mode, the force of both drives is bundled, which ensures a particularly high torque. With the so-called "Boost", the electric motor works together with the TSI direct petrol injection engine which is then unmistakable due to the typical engine sound that is produced when GTE mode is activated. And not infrequently by the driver's cheering.
Plug-in Hybrid
Double the drive. Double the driving pleasure.
The Passat GTE is a plug-in hybrid with an electric motor and TSI petrol engine. Start off in the locally zero-emission, quiet e-mode where only the electric motor is running. Activate GTE mode using the button and combine the power of both engines with the 'boost' function.
This allows you to achieve a system performance of 160 kW (218 PS) with a torque of up to 400 Nm and acceleration of 0 – 100 km/h in 7.6 seconds. And reach a maximum speed of up to 225 km/h.
Range
The future is efficient
Look ahead: With a pure electric range of around 59 km – measured in the new, practical WLTP procedure (68 km under NEDC) – your Passat GTE proves that efficient mobility is no longer a vision for the future, thanks to plug-in hybrid technology. With local zero emissions and virtually noise-free.
Charge Management
Fill up on energy at home
Charging your Passat GTE is easier than changing a lightbulb: simply plug the charging cable into a socket at home or a public charging station. At home, a lithium ion battery is fully charged after around 6 hours and 15 minutes. And if you use a public charging station or the optional wall box, the battery will be fully charged in as little as four hours.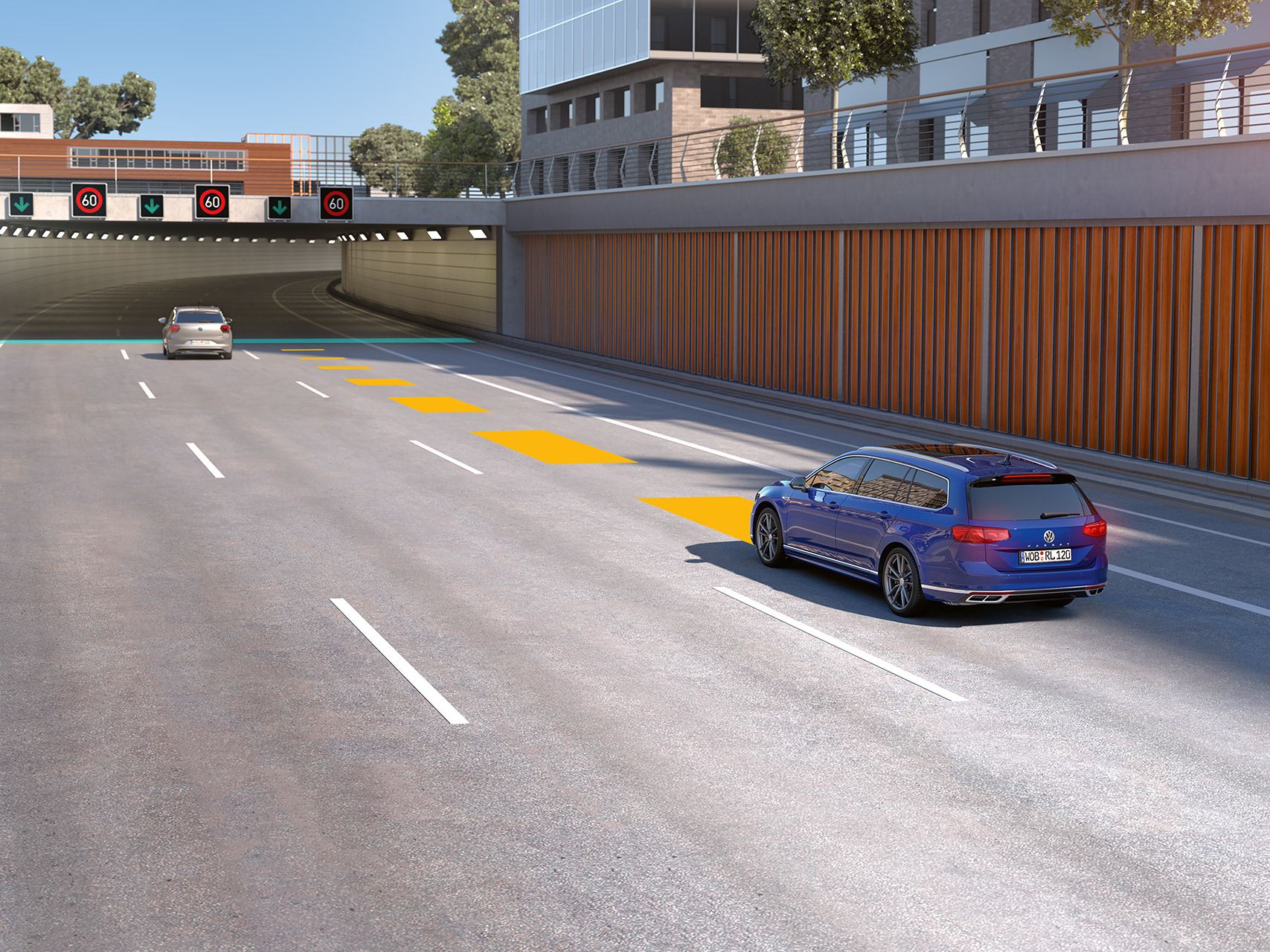 Adaptive Cruise Control (ACC)
Keeps a distance. And to speed limits.
ACC adaptive cruise control prevents you from exceeding a pre-set top speed2 and enables you to maintain a minimum distance to the vehicle in front. In conjunction with an optional navigation system, ACC also offers predictive speed control and curve assistance. The system helps you to avoid overspeeding by integrating official speed limits1. Based on route data from the navigation system, the system also adjusts the speed of the car to curves, intersections and roundabouts1.
1 Within the limits of the system
2 Up to a maximum speed of 210 km/h
Park Distance Control with manoeuvre braking
Keep your eyes open as you park – and your ears
Hard-to-see parking space? Park Distance Control as standard indicates to you whether there is enough room in front of or behind the Passat GTE by beeping and showing a graphic in the infotainment system display. The integrated manoeuvre braking function can prevent a collision or at least minimise its severity when reversing at up to 10 km/h.
Park Distance Control with Autonomous Emergency Brake available as standard from Business equipment package
Autonomous Emergency Brake can also be activated for forward driving at the touch of a button
We connect

Your Passat GTE has the best connections. Online, too.
With the We Connect bundle, you can use all kinds of helpful and innovative online services and functions free of charge in your Passat GTE after a one-time activation.