2.0 l TSI Engine with 245 HP
Powerful. Sporty. Well trained.
Interior
Enjoy a fantastically sporty comfort
Exterior
Offering you a sporty, elegant appearance.
When there is a red line stretching across the front and the radiator grille features a honeycomb design and black air intakes, then there can just be three letters on the badge: GTI. Slim LED IQ.LIGHT Matrix headlights, a strikingly dynamic bumper and extended side skirts add even more expression to the sportiness of this legendary vehicle. At the back, the roof spoiler and chrome-plated tail pipes are essential features, while the LED tail light clusters round off the unique appearance. 
Wheels
Guaranteed to turn heads.
Nothing shapes the side view of a vehicle more than the wheels. The dynamic alloy wheels that are available as standard or an option impressively enhance the all-new Golf GTI's sporty nature. 
IQ.Light
The highlight in your Golf GTI: IQ.LIGHT
The all-new Golf GTI is fitted with visibly dynamic IQ.LIGHT LED Matrix headlights as standard that stretch all the way round to the side wings, while sleek LED tail light clusters dominate at the rear. The powerful LED matrix headlights fitted with "Dynamic Light Assist" main-beam control light up the road. The package also includes innovative dynamic turn signals that use an animated strip of lights to show which way you are turning.
Exterior background lighting
He finds you well. And you will find it easier.
With the exterior background lighting, your Golf GTI will welcome you before you've even climbed aboard: Operate your remote control key or, with Keyless Access with SAFELOCK, start to approach the vehicle and the headlights and tail lights will light up.  The door handle recesses and red strip in the radiator grille will also light up and your Golf GTI will welcome you with light projected out of the exterior mirrors onto the floor.
Engine
Powerful. Sporty. Well trained.
With its 2.0 l TSI engine, the compact sports car delivers an impressive 245HP that hurtles you from 0 to 100 km/h in just 6.2 seconds – and enables you to reach a top speed of 250 km/h (regulated). This amount of power is not just fun on straight roads like motorways, but on windy country roads, too. Here, you'll also receive a helping hand from the front differential lock, which stabilises your Golf GTI if it slips and helps you to keep control in the process. Wherever you are heading, you can make the most of this powerful engine.  
DSG dual clutch gearbox
No more gear changes, but no less fun
Climb in and hit the road: the DSG dual clutch gearbox with its brand new smaller selector lever guarantees fun behind the wheel without any interruptions. That's because you can change seamlessly between the gears and even reduce your fuel consumption. Pressing on the selector lever enables you to easily select your chosen driving mode, which is then activated via the electrically connected shift-by-wire gearbox. Particularly handy in a traffic jam: When combined with the standard Travel Assist feature, the system can help you to pull away and brake.
Front differential lock (VAQ)
A clear path for narrow corners:
the all-new Golf GTI with front differential lock
Do you love narrow bends? Then the all-new Golf GTI is the ideal car for you. That's because it offers you features like a front differential lock (VAQ), that stabilises your Golf GTI if it starts to slip. This gives you better control, even if you have a sporty driving style.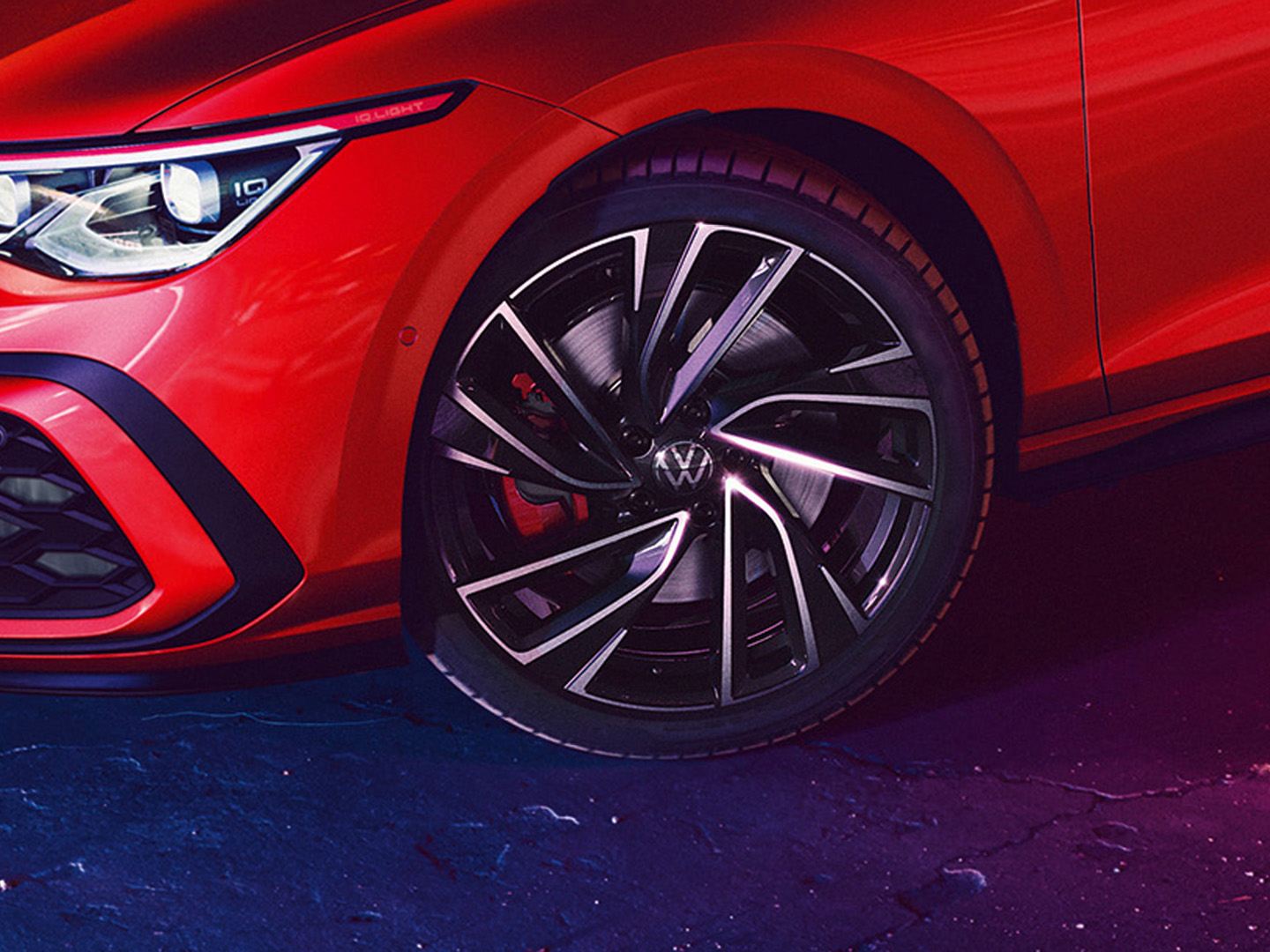 Electronic differential lock XDS+
So you can enjoy curves even more
Who would have thought that a little phrase like "electronic differential lock XDS+" could bring such a broad smile to your face? This is precisely what happens in the all-new Golf GTI. That's because the standard XDS+ delivers more traction, which helps you to feel safe when cornering. For example, the precise application of pressure to one side results in sportier, faster and more accurate cornering, so it comes as no surprise that you feel yourself start to smile when you spot a curve ahead.